As unique as you.
Gift health and wellness.
Buy
Only until January 7
What does the tellmeGen DNA test offer?
With tellmeGen's DNA test you will get to know in detail a great number of aspects about yourself that you were previously unaware of.
DNA Connect
Connect with people through your DNA. Expand your world.
DNA Connect is a service offered by tellmeGen that allows you to search for genetic matches with other individuals and communicate with them. You can find matches ranging from close relatives (such as parents or children) to more distant relatives, and you may be surprised by the number of genetic family you have around the world. DNA Connect is a feature included in the tellmeGen genetic test. Learn more about it today!
More information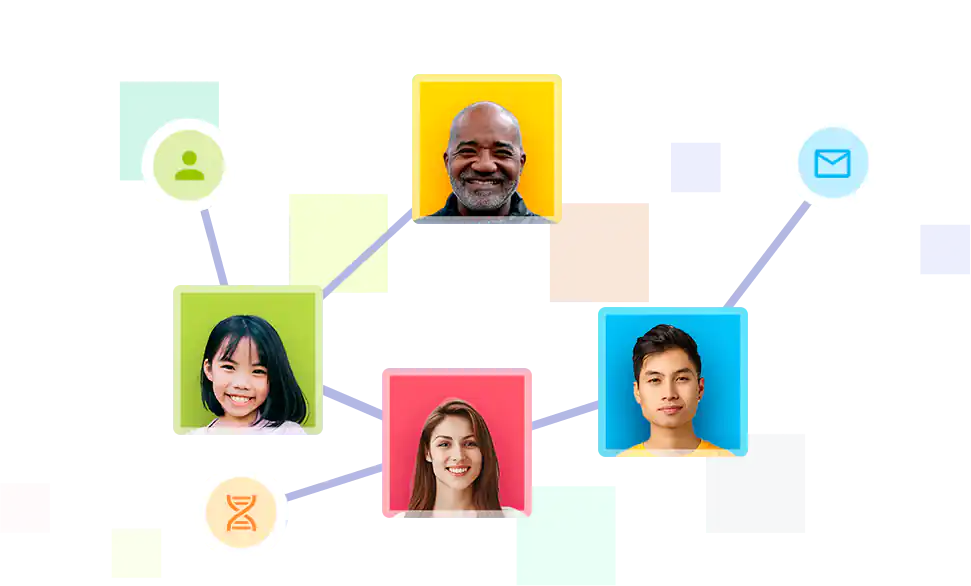 This is how your DNA test results are shown
See our demo report of your DNA test results by clicking on the button below.
The most complete DNA test you will find
No other genetic test on the market can offer you a greater number of results than ours (currently over 400 different results). These are divided into different categories, including health (genetic testing for diseases, pharmacological compatibility, etc.), personal traits (including sports and nutrition), and ancestry.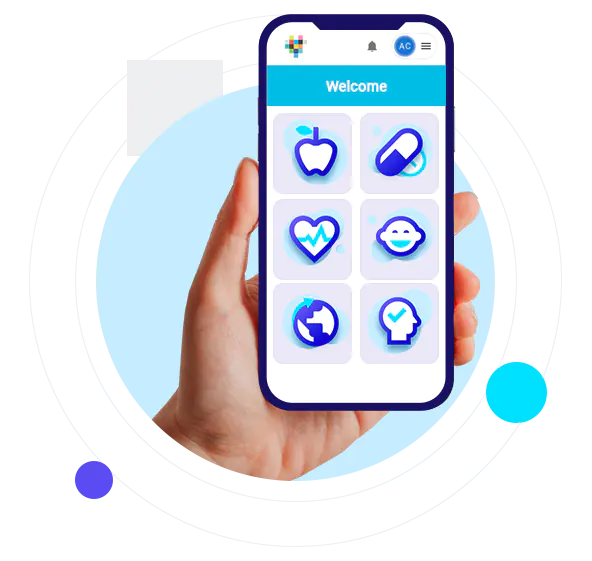 The only DNA test that updates for free!
The more than 750,000 mutations studied in our genetic test are only the starting point of your tellmeGen experience. Prepare to receive regular updates on new features, information about your genetics, and updated reports on your results. We offer a complete genetic service for free (and forever!) thanks to the work of our scientific team. At tellmeGen, we place great emphasis on research, and as a result, we are constantly improving our DNA test.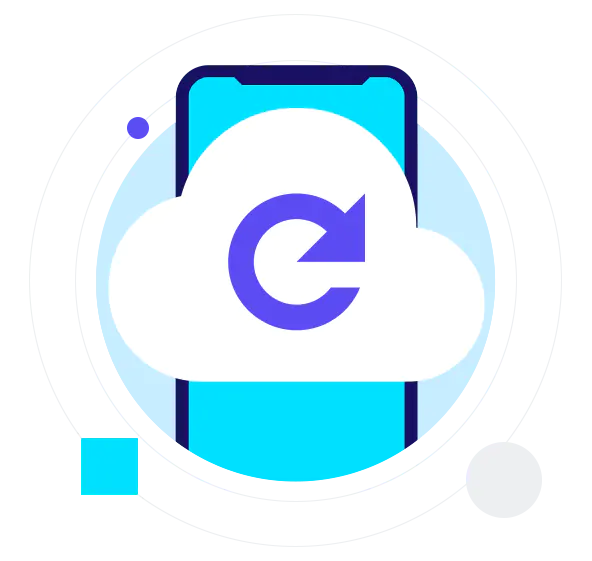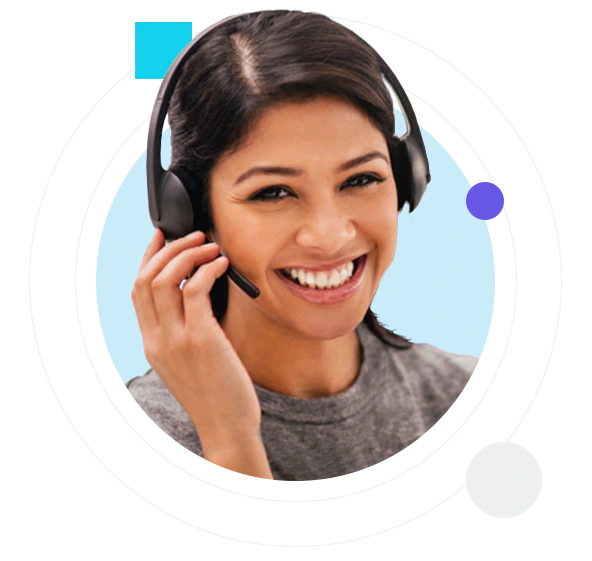 The DNA test with the best customer service
Have you purchased a genetic test and need support?
Our customer support team is ready to assist you and address your concerns within 24-48 hours. We are available for you 24 hours a day, from Monday to Friday. Have you purchased your genetic test and need support? Questions? We are available via email, chat, or phone. Feel free to contact us.
Do you have any questions about your genetic test results?
At tellmeGen, our team of doctors and geneticists are available to offer personalized advice and guidance, should you need it. You can purchase a personalized consultation or report to get the most out of your DNA test results.
Medical consultation
Extra consultation service with specialized doctors and geneticists.
More information
Nutrigenetic report
Extra consultation service with specialist nutritionists.
More information
Pharmacogenetic report
Extra consultation service with pharmacology experts.
More information
Privacy & Security of our genetic test
Guaranteed reliability with encripted data
Privacy, confidentiality, and data security are essential responsibilities that we take very seriously at tellmeGen. We utilize the most advanced security protocols and the latest computer encryption technology, as well as physical and technical measures, to maximize security in accordance with current legislation. All connections to and from our website are secured under the SSL cryptographic protocol.
Predictive genetics, now even more accurate
Through the implementation of advanced methodologies, we have successfully increased the number of mutations analyzed in our genetic test to tens of millions, surpassing our initial 750,000 marker count. This substantial improvement has enabled us to enhance the precision and reliability of our results, which we continuously update using the latest scientific research. All of this is provided to you at no additional cost, for life, thanks to the dedication of our medical and genetics team.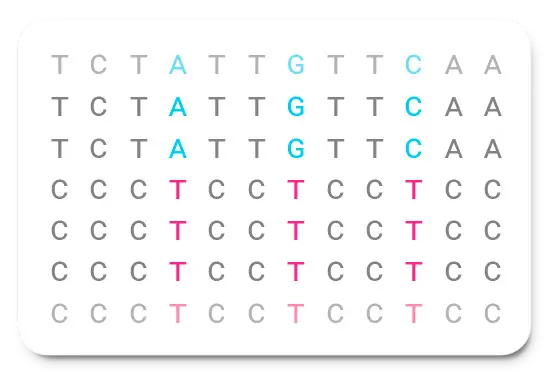 Technology & Laboratory
At tellmeGen, we use Illumina's newest chip, the Global Screening Array (GSA chip), which contains over 750,000 markers. Additionally, we customize the chip with more than 10,000 SNPs that have been carefully selected to provide additional clinically relevant information. Our genetic analysis is conducted in centers that hold the ISO9001:2015 certificate and comply with all corresponding regulations, ensuring the highest quality standards and the accuracy and reliability of our results.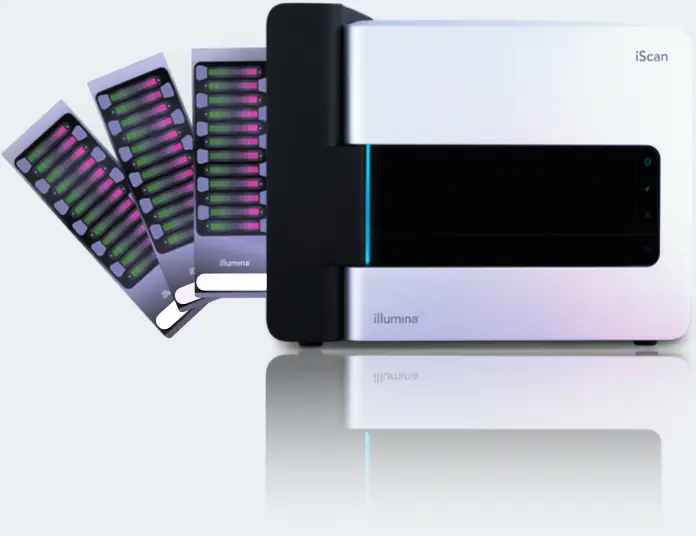 Fast, easy and convenient. This is how tellmeGen's DNA test works
Order your genetic test by clicking "buy"
When you receive your test, register it online. At the end, you will receive your shipping label.
Deposit your saliva sample
Shipping to the laboratory is at our expense!
Get your results and find out what your DNA says about you
tellmeGen Raw DNA Data
At tellmeGen, you can access all the information and features even if you have Raw DNA Data from other companies like 23andMe, Ancestry, MyHeritage, and many more. We can analyze your Raw Data from any source, as long as it is encoded in the (+) strand of the GRCh37 reference genome, has a call rate greater than 0.95, and has a chip array format with no modifications. Furthermore, with our paid service, you can upgrade your kit to drastically increase the amount of information we provide.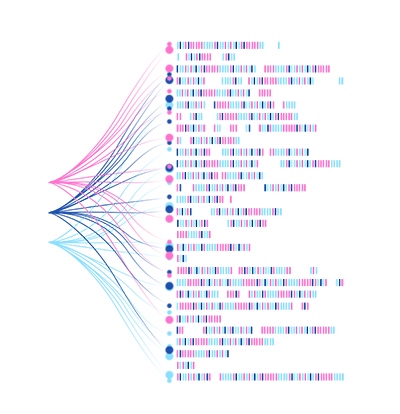 tellmeGen Research
Pioneers in research
TellmeGen is not just a genetic test, but a company dedicated to staying at the forefront of genetic research and developing new products. Through our research efforts, we aim to advance the field of science and personalized medicine.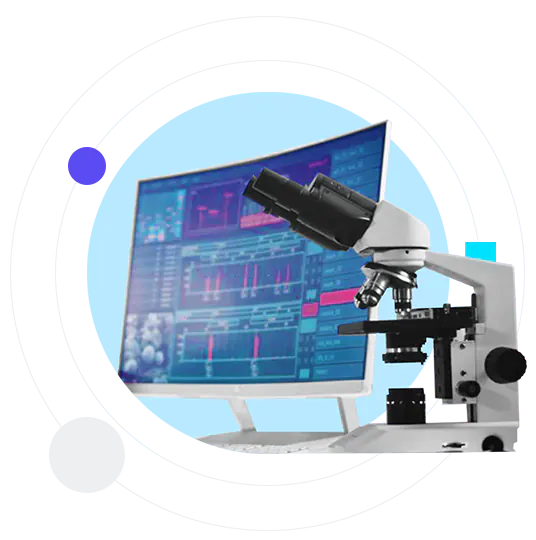 Questions and Answers about our DNA test
Starter
Advanced
Other companies Ancestry only
Other companies Health + Ancestry
Starter
Advanced
Other companies Ancestry only
Other companies Health + Ancestry

+85

Genetic predisposition to diseases

+85

Genetic predisposition to diseases

+165

Pharmacological compatibilities

+165

Pharmacological compatibilities

+100

Inherited monogenic diseases

+100

Inherited monogenic diseases

+50

Personal traits

+50

Personal traits

+30

Wellness items

+30

Wellness items
Ancestry
Ancestry
Maternal and Paternal Lineage
Maternal and Paternal Lineage
Neanderthal DNA
Neanderthal DNA
Free updates Forever!
Free updates Forever!
DNA Connect
DNA Connect
The development of complex diseases, such as cancer or any other disease, fundamentally depends on two factors: genetic predisposition and interaction with the environment. While we cannot change our DNA, we can change the way we live. By taking care of and improving habits that are more closely related to a disease for which we are predisposed, we can reduce our risk. With tellmeGen's genetic test, you can discover your genetic predisposition to a multitude of diseases, identify which environmental or lifestyle factors influence their development, and take action to reduce the risk of suffering from them. This test provides you with a genetic report, including a set of indicators that you can use to take action today.
It is the increase or decrease in the probability of suffering from a certain disease depending on the genetics of each person. It is also called "genetic susceptibility".
Of course. Genetic testing for children can be particularly beneficial since they are the population group that can adapt more their lifestyle and habits based on the results. From an early age, they can avoid or reduce the risk of developing certain diseases or exposure to various substances, including drugs, among others. Furthermore, tellmeGen's genetic test is specially designed and intended to obtain a saliva sample without the need for spitting, making it the most comfortable and non-invasive way possible, perfect for children.
At tellmeGen, we strive to make the results of our genetic tests available as quickly as possible. As a general rule, the average waiting time is 4-6 weeks from the moment the samples are received at the lab. You can access your results in the private area of our platform from a computer, mobile phone, or tablet, and you can also download them as a PDF file.
At tellmeGen, we place great importance on genetic studies and as a result, your account will be regularly updated with new information on diseases, drugs, and more, all at no extra cost. We believe that tellmeGen is more than just a basic DNA test.
The results of your genetic test are completely confidential and protected. When you register for the test, your data is converted into an alphanumeric encrypted code automatically. During the analysis and in the lab, no one has access to your personal information. At tellmeGen, we strictly follow the General Data Protection Regulation (GDPR) and have established both physical and computer barriers to ensure the utmost privacy and security of your information.